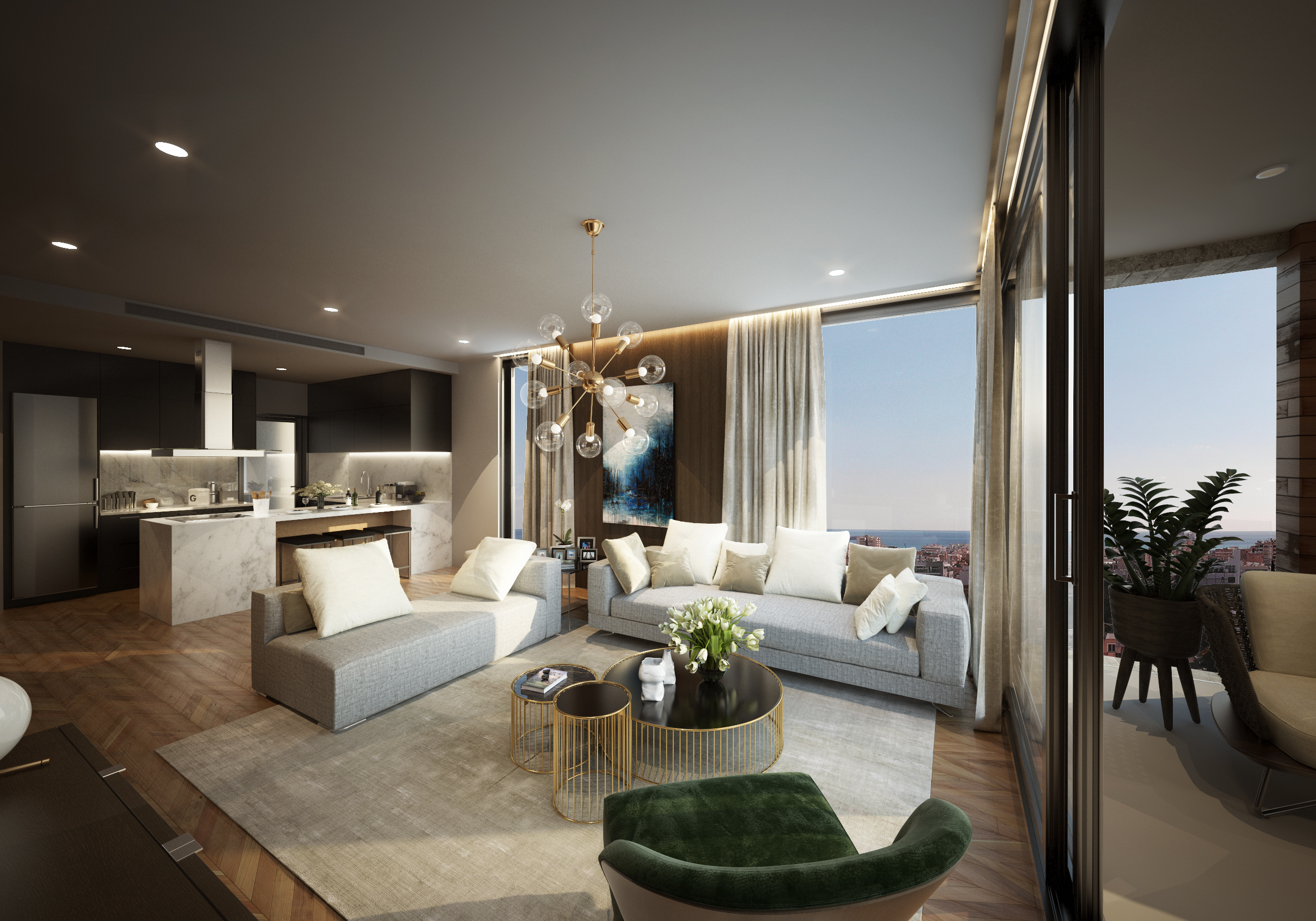 Rigas Residence is a highly sophisticated development showcasing natural individuality. It embraces the stunning views, creating an open feel, and plays on combinations of light and dark to mirror the natural world outside.
Each apartment is designed for day-to-day convenience. Bright, airy spaces where people can live, laugh, dream, and write their own stories.
ECO-FRIENDLY LIVING
Energy Efficiency Certificate of "Grade A"
Rigas Residence has been certified by the Ministry of 'Energy and Commerce' as Energy Efficiency of Grade A. The design and specifications have been met to attain this standard.
Zero Energy Homes
Connect your home with the Photovoltaic System on the rooftop and achieve a nearly zero consumption energy bill.
*Provisions applicable only for 3-bed apartments
CONCRETE STRUCTURE
The building complies fully with the European regulation of the anti-seismic code.
WALLS
 250mm brickwork cladded with 8mm polystyrene slabs for thermal insulation plaster to meet standards of insulation for energy efficiency of Class "A".
Internal walls are 100mm brickwork for insulation and soundproofing
FLOORS
The entrance hall, bathrooms, kitchen, living and dining areas will be finished with large sized ceramic tiles.
The bedrooms will have Floating type wooden parquet
The terrace will be paved with anti-slip ceramic tiles.
WALL FINISHES EXTERNAL
Blockwork wall surfaces will have three coats of plaster and two coats of external paint
Part of the external surface of the building will be covered with thermally insulated HPL panes
WALL FINISHES INTERNAL
All surfaces will be finished with spatula and painted with three coats of emulsion paint.
The bathrooms will be lined with ceramic wall tiles up to a height of 2.4m.
Guest toilets will be a combination of paint and ceramic tiles.
KITCHEN APPLIANCES
Provisions for electrical oven, extractor hood, washing machine, dishwasher and refrigerator.
WARDROBES AND KITCHEN CUPBOARDS
The kitchens will have engineered stone worktops and backsplash.
The bedroom wardrobes and kitchen cupboards will be imported ready-made for installation.
DOORS AND WINDOWS
The main entrance doors will be anti-burglary and fireproof steel leaf structures, with wooden panelling on the interior and exterior, a security lock and automatic floor seal.
All internal doors will be imported readymade to be installed.
All external doors leading to the balconies will be sliding aluminium thermal frames with double low energy glazing.
Openable external windows will be double glazed aluminium.
WATER SUPPLY
Hot and cold water supply will be Pipe-in-Pipe System
Each

Apartment will be equipped with cold water storage tank, pressurization unit system and hot water cylinder with solar panels.
SANITARY WARE AND MIXERS
High quality imported white sanitary ware and mixers will be installed from reputable manufactures complete with accessories
CEILINGS
Gypsum board system to enclose all services and provisions, painted with three coats of emulsion paint.
ELECTRONIC HOME SYSTEM
Provision for automated touch panel lighting system for Penthouse
Provision for automated touch panel control air-conditioning system for the Penthouse
ELECTRICAL INSTALLATIONS
Decorative electric galvanised steel gates for the parking areas
The entrance door will be controlled with a video entry phone.
TV points will be provided in the living areas, balconies and all bedrooms
Telephone lines will be installed with telephone/ethernet sockets in the kitchen, living room and all bedrooms.
All ceiling LED lights will be provided
COOLING AND HEATING
Provisions for Central VRF conditioning system for all apartments
Provisions for electric heating
Provisions for water Underfloor heating for Penthouse
SWIMMING POOL
Provisions for swimming pool on roof-top (5th floor) for penthouse
LEARN MORE ABOUT THIS PROPERTY